Ice Shows
Holiday Ice Show
December 2, 2023 @ 4:30pm
December 3, 2023 @ 2:30pm
Be sure to reserve the first weekend of December for the performance of our annual Holiday Recital. You'll enjoy the talents of our young skaters as they perform to the music of the season. We promise to lift your spirits and help you celebrate the special joys of the holiday season!
Skaters who wish to be part of the festivities should register for Session 1 classes AND for the appropriate group number. Additional information is available on our Holiday Recital flyer.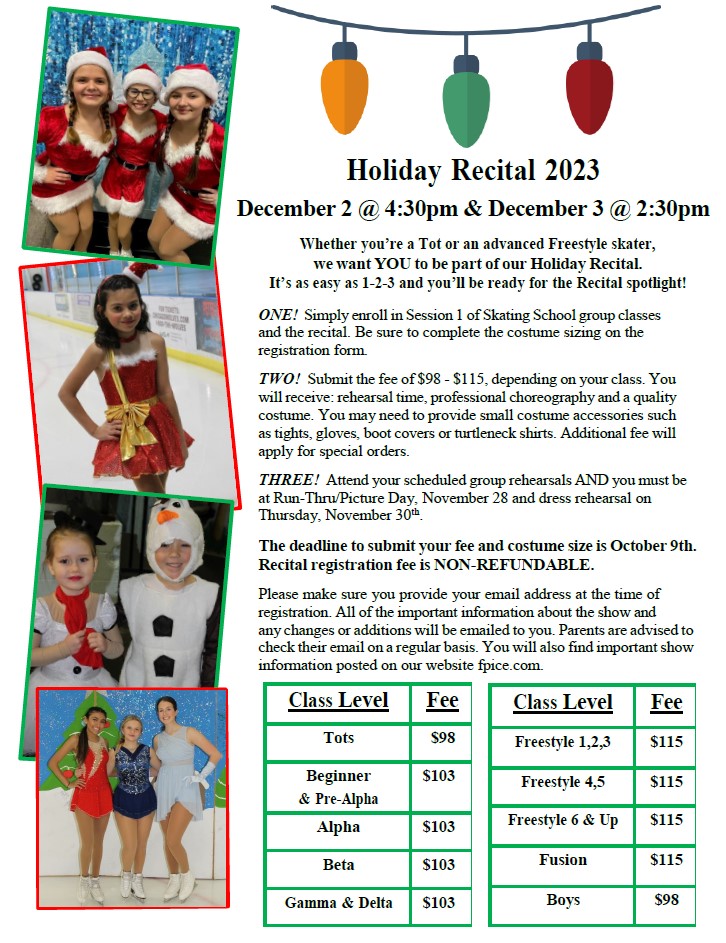 Questions? Contact our Skate School Director, Anne Raucci, at 847-671-4268 or email araucci@fpparks.org
---
Spring Ice Show 2024
May 17, 18 & 19
If you haven't seen one of our annual shows, you've been missing out! Each year, the Ice Arena presents a "near professional" production for your enjoyment. The costumes are colorful, the music is energetic and the lighting effects are vibrant. Best of all is watching our Skating School students perform. From tots thru teens, they look forward to performing their newly learned jumps, spins and choreographed routines in front of an audience.
Please make sure you provide your email address at the time of registration. All of the important information about the show and any changes or additions will be emailed to you. Parents are advised to check their email on a regular basis.
For more information on the Spring Ice Show, contact our Skate School Director Anne Raucci at 847-671-4268 or email her at araucci@fpparks.org
---
There are 6 photos
---