Skating Camps
Does your child enjoy skating so much that they'd enjoy being a part of a Skating Camp this summer? Look no further! Our Summer Skating Camp is offered to everyone from our Tot & Beginner skaters all the way up to advanced Freestyle level. Camp is offered for 8 weeks and you must register for a minimum of 4 weeks. *Tot thru Gamma Camp participants MUST have prior skating experience and be able to skate independently & without assistance. Camp is not designed to be an introduction to skating for brand new skaters.
June 6 – July 28, 2023 ~ 8 Weeks!
Registration Starts:
April 25 – In-District Residents
April 26 – Open Registration
Summer Skating Camp takes place Tuesday, Thursday, & Friday
Tot thru Gamma Camp is 8:30am – 1:00pm, T/Th & 8:20-11:20am Fri
Delta thru Freestyle Camp is 8:00am-2:20pm, T/Th & 8:00-11:20am Fri

See the brochures below & to the right for more registration information, fees and our convenient payment plan.
Our fun-filled 8-week camp program has skating and general athletic development as its focus for all activities. Within the encouraging, safe and friendly environment of the Franklin Park Ice Arena, young skaters improve their fundamentals of balance, posture and rhythm. They delight in acting out characters on ice and doing arts and crafts. Our intermediate and more advanced skaters enjoy spending time with old and new friends while learning many techniques to better their performance.
All camps are offered at a significant savings with many fun activities planned for the summer. Camp activities are supervised by our staff of professionals. Skaters may register for the camp alone or add classes and freestyle sessions.
Contact Anne Raucci, Skating School Director at 847-671-4268 or by email at araucci@fpparks.org for more information.
---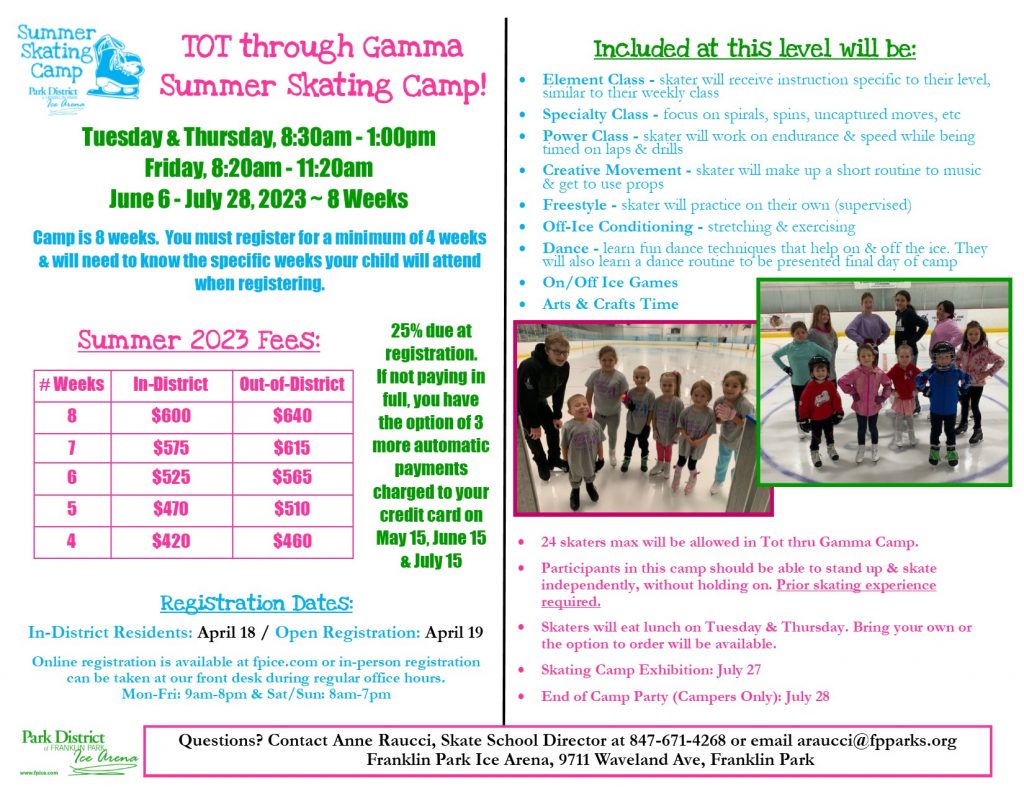 ---